BBC Music Introducing In Lincs w/ Serena Joy, Dimaggio Jones & Jaz Beeson
Friday 27 Aug, 2021 | 19:00
- 14+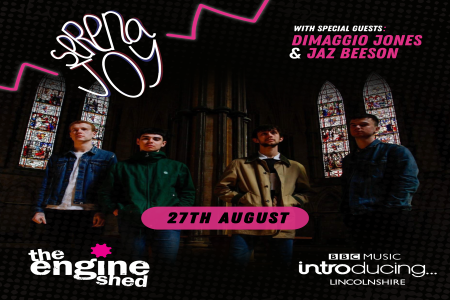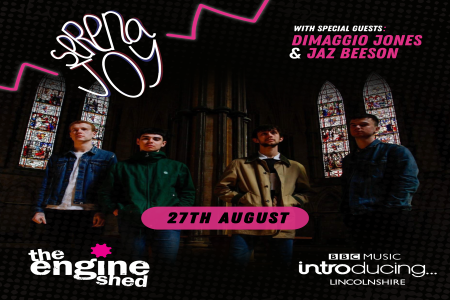 Described by Gigsutz and This Feeling as 'punchy, harmonic indie rock with big guitar tones, guaranteed foot stompers', Serena Joy return to The Platform at Engine Shed Lincoln!
Championed by BBC Introducing In Lincolnshire and having shared stages with the likes of Marsicans, Twisted Wheel and Airways; the Serena Joy live show is lively, energetic, and guaranteed to get everyone going.

Dimaggio Jones are a four-piece electro indie rock band based in Lincolnshire. Formed in late 2016, the band focus on an electronic indie dream pop sound with tropical vibes. The lads take on different musical interests from late 80s radio pop and atmospheric synths to pop punk and heavy metal. Joseph Flynn rips vocals with his provocative dancing, inciting the crowd to join in, while Joe Devlin's hypnotic guitar playing keeps you moving along. Ed Skipworth's punchy bass fills the room with his steady style. And Hugh Boyd on drums smacks those beats down to make their songs resonate through the crowd. Dimaggio Jones are hot for 2021 and have new singles coming out soon!
Jaz Beeson makes music for golden-hour road trips and twirling through daisy dappled fields. With dream-haze harmonies floating on top of punchy acoustic production, her music is made for coming-of-agers and cottagecore daydreamers. Jaz's transatlantic lyricism takes you to a petrol station in the middle of the the ocean, and her feathery vocals draw comparison to Phoebe Bridgers, Maisie Peters and Lauren Aquilina
Find Tickets